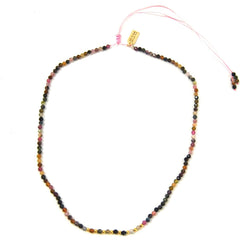 The number 8 is the luckiest number in Chinese culture because 八 (the character for 8) sounds like 發 (fa), which means "wealth", "fortune", and "prosper". Wear this necklace and set 8 goals or wishes with each gold bead. May this necklace make those wishes come true!

Delicate semi-precious stone beads, gold filled accents
Chinese silk thread
Adjust to wear this necklace at any length, from a choker to a longer length for layering. 
Handmade with love in NYC.